Junior and Senior Choirs
Junior Choir consits of pupils from Year 3 and Year 4 and is led by Mrs G Mathers and Mrs J Crosbie
We meet on a weekly basis and take part in fun musical games as well as singing together.
We perform at various school and comunity events throughout the year and brought home the KS1 Cup from the Tyrone Feis in 2019!
Senior choir consisits of children from Year 5-Year 7 and is also led by Mrs G Mathers and Miss L Smyth.
The choir is in big demand, performing at many events throughout the year.
Here is a sample of some community events which have previously showcased our choir-
Carol singing within the community
Switching on the Christmas Lights with Nathan Carter
Taking part in the WELB concert in the Strule Arts Centre
Joining in a '12hour sing' at Puddleducks Nursery
Partaking in the Tyrone Feis
Singing at a fundraising concert in St Joseph's hall
Last year we were delighted to have won the Unison section in the Tyrone Feis!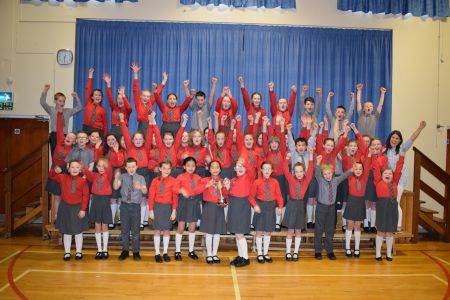 Omagh County Primary School, Campsie Rd, Omagh, County Tyrone BT79 0AJ | Phone: 028 8224 2642